Hygienic Sanitary Containers - Functional, Practical and Attractive
Industrial companies, municipalities, construction companies, tent camp operators, sports clubs and festival organisers - they all count on the proven quality of FLADAFI® sanitary containers. The success of our toilet containers, toilet boxes and wash and shower containers is based on hard-wearing and environmentally friendly materials that combine easy cleaning, high hygiene comfort and lasting value.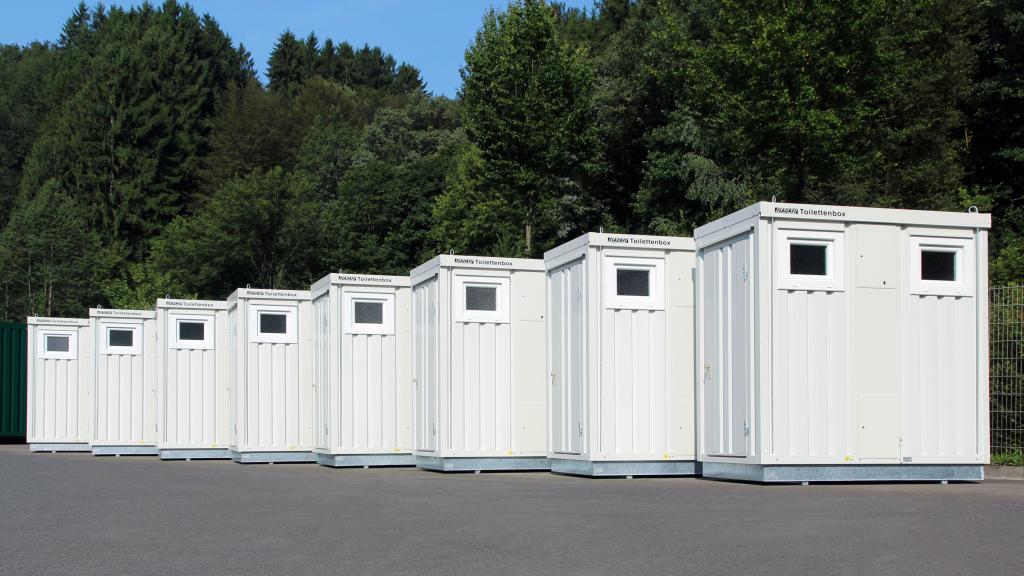 SANITARY CONTAINERS
The Mobile Toilet Box With Fresh Water Tank
Optionally, for self-sufficient systems, a holding tank with a capacity of 400 l can be installed into the toilet container.
If a permanent outdoor installation is desired, we recommend an insulation made of sandwich elements. Together with a heating system, which is available on request it remains pleasantly tempered in the toilet cubicle even at low temperatures.
We attach great importance to high and certified quality. All our toilet cubicles can be individually equipped with corresponding accessories, e.g. with an anti-freeze guard or a hot water connection.
The standard equipment from the 2 m² sanitary container room includes:
flush toilet with cistern
washbasin with soap dish
tilting window for light and ventilation
toilet paper holder and towel holder
 coat hooks
integrated fresh water tank 1500 l or fixed connection for supply water
We offer different sanitary container types that can be supplemented with further room modules if required. Separate ladies' and gents' areas with a selectable number of toilets, urinals, shower areas, partitions with pubic walls: many different design variants are available.  
Feel free to contact our staff, we will find the best solution for you.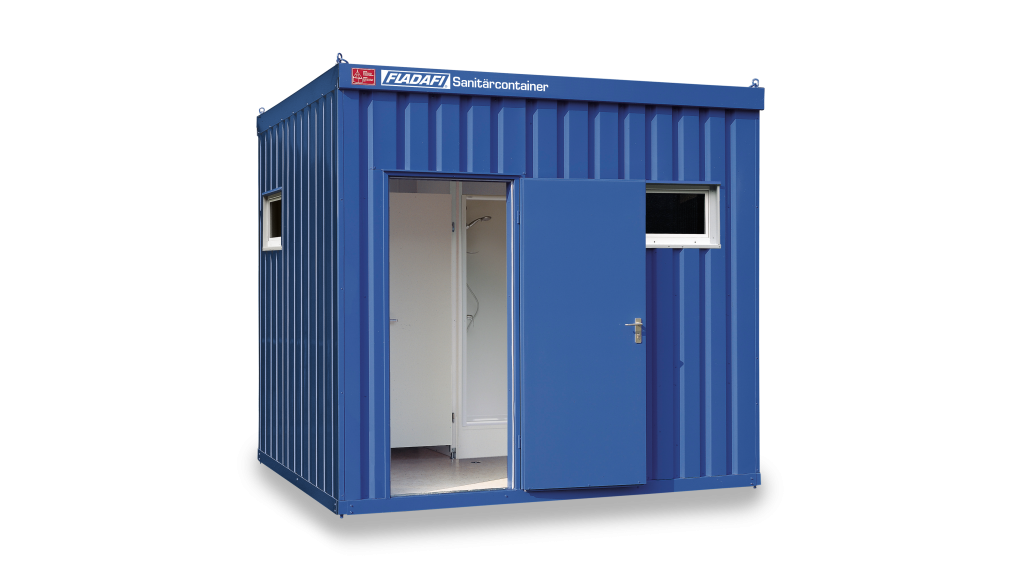 SANITARY CONTAINERS UP TO 13 m²
Toilet Containers that Meet the Highest Demands
Privacy-protecting pubic walls between the urinals as well as common or separate anterooms with a porcelain hand-washing basin are part of the delivery programme.
In the larger toilet containers with 13 m², there are two toilet cubicles, two hand-washing basins and two urinals in separate toilet areas.
If a version exclusively for men is desired, the container contains up to four toilet cubicles and urinals as well as up to two hand-washing basins. Mirrors and towel rails are an integral part of the scope of delivery.
Our toilet containers are absolutely high-quality and functional. If there is no connection to the supply network, a waste-holding tank can be installed.
Inside the container, the tongue and groove wooden ceiling ensures a pleasant room atmosphere, the tilt window provides sufficient ventilation and the electric wall heater ensures pleasant room temperatures. The exterior walls can be painted in all available RAL colours to match your own corporate design.
Self-Sufficient Sanitation Solutions Ready for Connection
An insufficient sanitary infrastructure can be quickly counteracted by the mobile containers, as our sanitary modules are provided ready for connection.
If desired, the containers can be equipped with a waste water tank. In this way, you can create self-sufficient solutions at any time and are not dependent on connection to local supply networks.
The containers are delivered by truck and unloaded by loading crane. Should the location prove to be less than ideal, the sanitary container can easily be moved to another location using a forklift truck.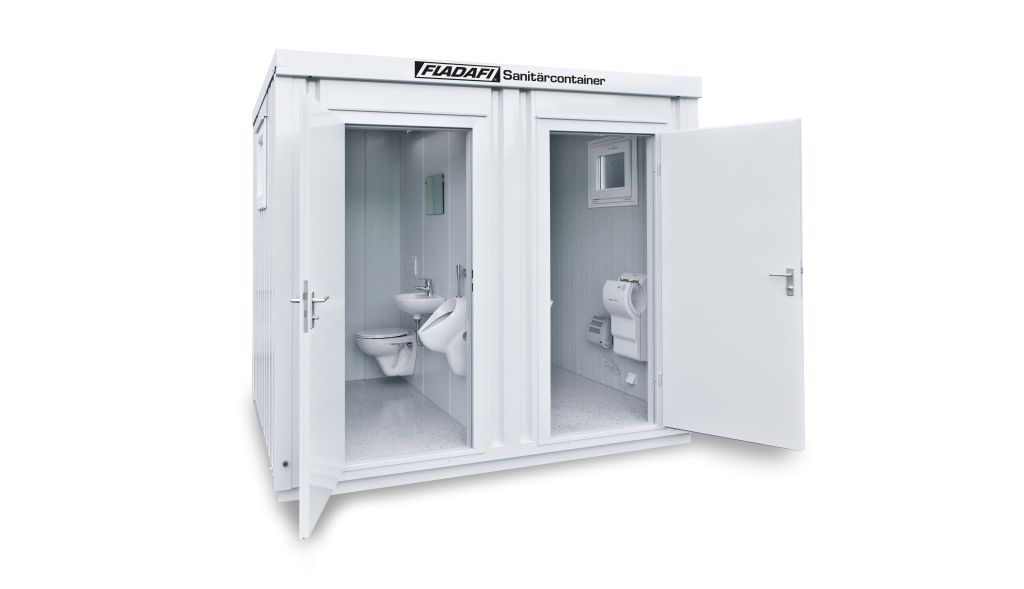 INSULATED SANITARY CONTAINERS
Protected and Insulated Toilet Containers All Year Round
The floor is composed of an insulated steel floor frame with mineral wool insulation, wooden support plate and PVC or epoxy resin floor.
On the outside, the insulated toilet container is encased in a galvanised and plastic-coated trapezoidal sheet. We use environmentally friendly and corrosion-resistant materials for our toilet containers.
Our portfolio of insulated sanitary containers stands for high standards in terms of appearance and product benefits as well as year-round usability. For the popular sanitary container 2.3 with separate ladies' and gents' WC areas, a particularly robust industrial floor coating with an attractive appearance is available on request.
We offer optimal temporary or permanent solutions for your individual needs.
Technical Rules for Workplaces (ASR) Sanitary Containers
In Germany the Technical Rules for Workplaces (ASR) and ASR A 4.1 Sanitary rooms define the installation and operation of toilet rooms, washrooms and changing rooms for employees in workplaces.
Specific requirements regulate, among other things, how many toilets must be available for a certain number of female and/or male employees. For example, for 11 to 25 employees, at least 2 toilets/urinals and one hand washing facility are required for low use. For high use, there must be 4 toilets/urinals with 2 hand-washing facilities.
The largest model as a men's toilet is designed for up to 75 people. The portable and lockable toilet cubicle is designed for single person use. Our sanitary modules meet the legal requirements for occupational health and safety such as anti-slip floors in shower containers or an effective ventilation.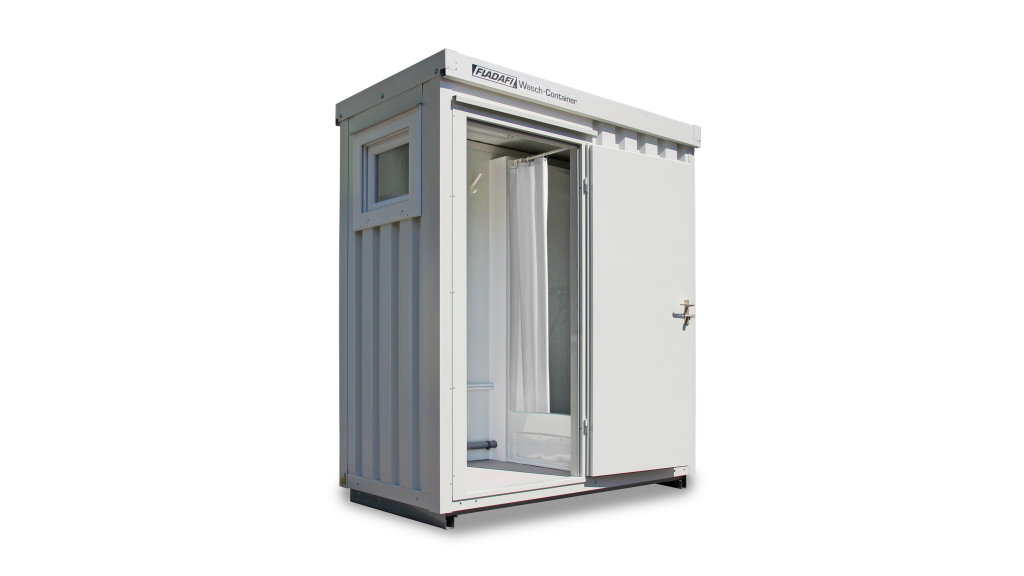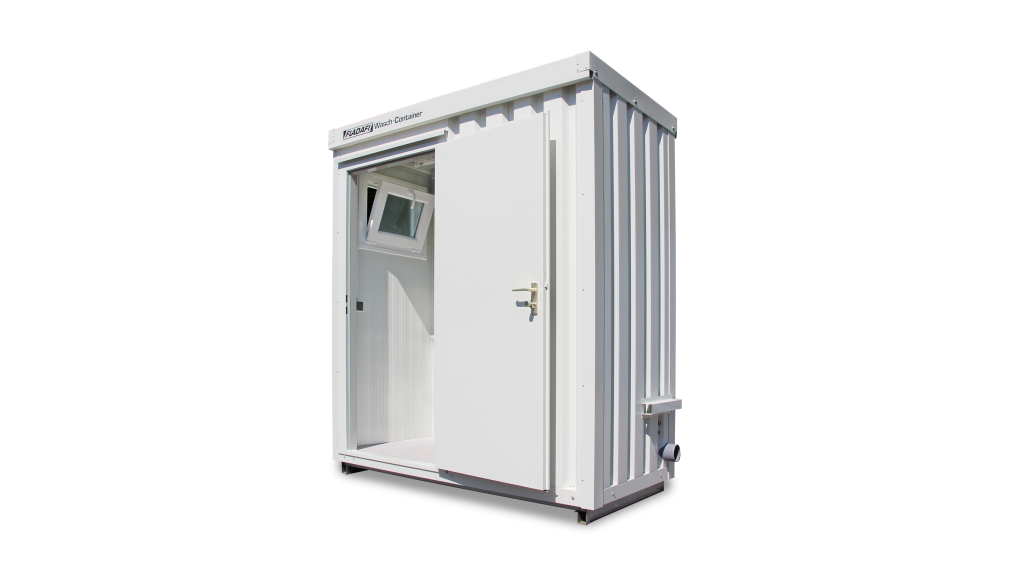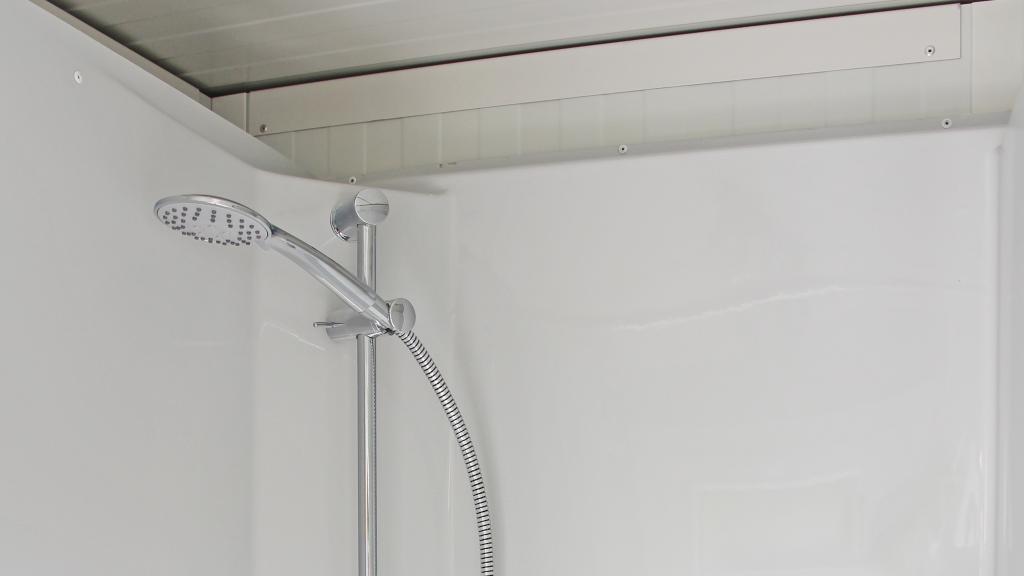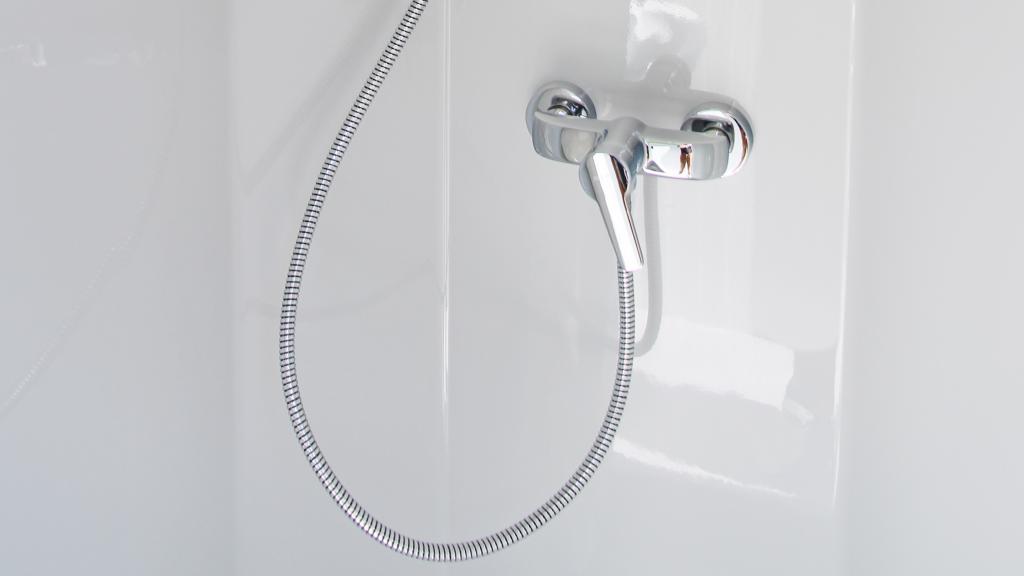 WASH & SHOWER CONTAINERS
Shower Containers - Comfortable, Hygienic & Easy to Clean
SÄBU offers different shower container models which can be adapted to your requirements in terms of equipment and size: From small shower containers with shower cubicle, washbasin and mirror with shelf to shower rooms equipped with separate WC containers, urinal basin, hot water boiler and electric room ventilator.
In addition, the shower container can also be equipped with heaters, tilting windows and electrical installations. At SÄBU you get tested quality.
We manufacture energy-efficient wash containers and shower containers, which are excellently suited for year-round outdoor installation due to their insulation made of polyurethane hard foam and are easy to clean due to their material components.
User-friendly, clean, high-quality - discover the variety of our shower containers.

You need a sanitary container? We will be happy to support you with optimal solutions according to your needs and wishes. Feel free to contact us by phone on -49 2294 6940 or via our contact form.
Specialist consultant for space and storage technology