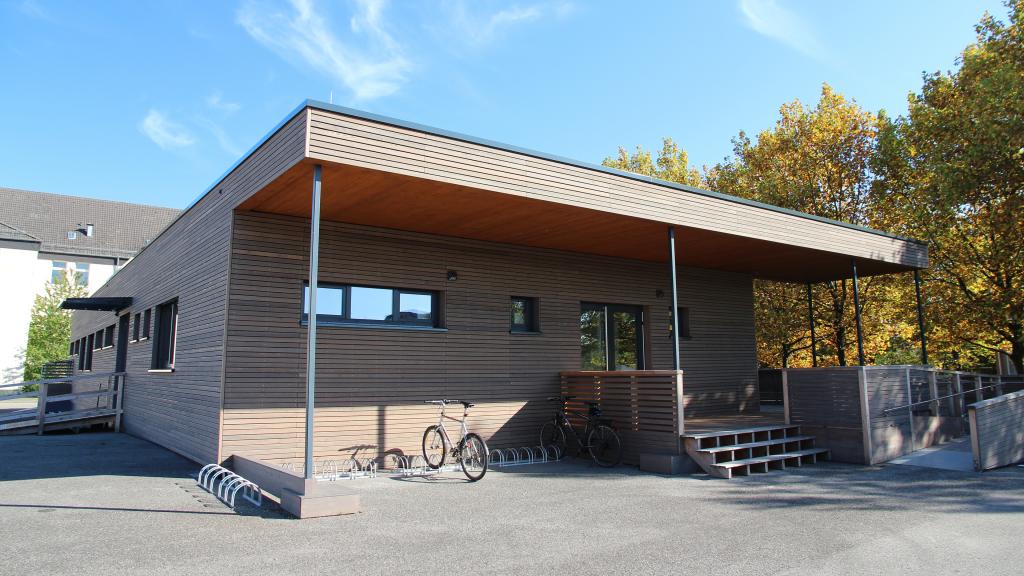 Modular Canteen With Style - Material Diversity Through Wood in Combination With Steel
This modern building in modular construction is the canteen of the Generalmajor-Freiherr-von-Gersdorff barracks in Euskirchen. Only the modularity enables the harmonious combination of industrial steel construction with natural materials such as wood and underlines an impressively clear line management. Although only temporarily erected as an interim building, the canteen is in no way inferior to permanent buildings with long life cycles.
All requirements for both fire protection and energy efficiency of permanent modular buildings were met. In addition, the façade system unfolds an unlimited scope for design.
During the planning of the modular canteen with functional rooms and a spacious dining hall for 80 people, the planners laid the foundation for a sustainable building by choosing the prefabricated construction method of steel in combination with wood.

Special attention was paid to the design of the façade. Here, a larch-Rhombuid-façade was installed horizontally, sawed and oiled. The rain pipes were led through the air layer of the wall structure.
small-block-left
Adjacent to the canteen in modular construction is a 21 m x 3 m wooden terrace. The staircase as well as a barrier-free access to the building including a balustrade railing were executed in the corresponding wood look of the façade.

All substructures as well as the terrace decking were made of weather-resistant wood.
small-block-right
The barrier-free single-storey modular building with generous window fronts for natural light incidence was constructed by SÄBU on an asphalted parade ground in just a few months thanks to the high degree of prefabrication. An optimised arrangement of the building elements guarantees the complete dismantling, later relocation and re-use of the building.

Unlike conventional construction methods, the building thus retains its value even if the location and use change. The principle of sustainability was taken into account in a special way.
small-block-left
Sales modular construction
Our References in Modular Construction