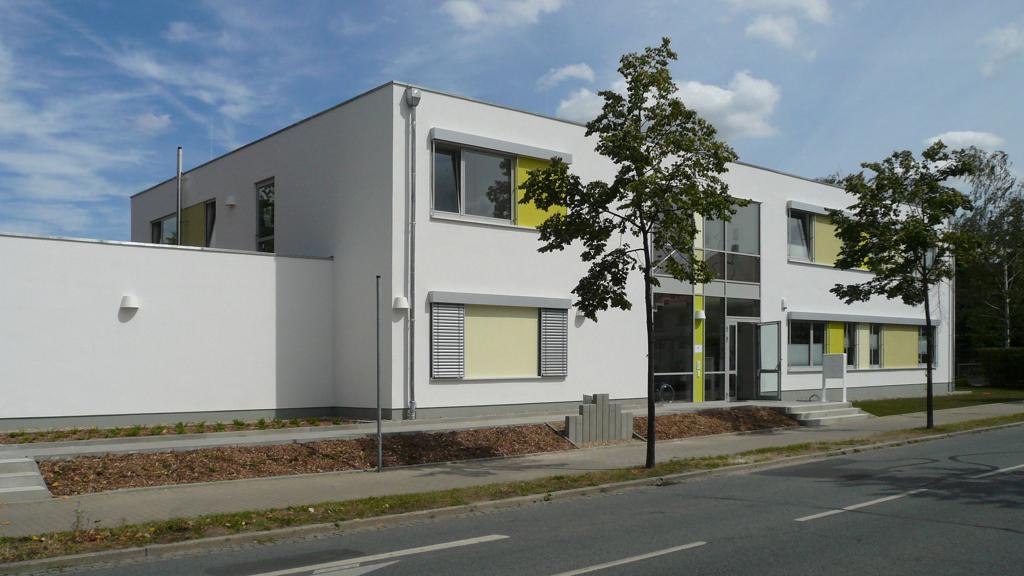 Modern Modular Construction Sets Clear Room Structures in Medicine
The medical modular building built by SÄBU in Riesa houses a dental practice as well as a community dialysis centre for internal medicine, nephrology, dialysis, sleep medicine and hypertensiology DHL®. The two-storey building was constructed from 34 modules and comprises a total of 1,255 m² of usable space. A special feature of this building is, among other things, the extremely short construction time of 7 weeks only.
The two-storey, barrier-free, modular building rises above a clearly structured floor plan. The medical modular building was given a roof terrace on the first floor, ending in an adjacent green roof.

The entrance area is equipped with automatically opening entrance doors and, with its elegant aluminium glass element, contrasts skilfully with the heat-insulating plaster facade.

The aluminium windows with electrically adjustable sun protection provide a pleasant room atmosphere and glare protection.
small-block-left
Entering the modular building via the inviting, generously glazed entrance area, one stands in a friendly, light-flooded foyer. From here, the direct path leads to the dialysis centre on the ground floor.

Via the spacious staircase or the lift, one reaches the first floor, where the nephrology and the dental practice are located.
small-block-right
Inside the dental practice is an elaborate interior design with semi-circular wall elements. These stylistic elements are repeated throughout the practice and create a modern as well as high-quality spatial experience.

The entire interior of the modular building is designed to be very friendly and flooded with light, with large windows and bright interior fittings. This ensures a pleasant working atmosphere and promotes the well-being of the patients.
small-block-left
Sales modular construction
Our References in Modular Construction